The Dave Howell Jazz Quartet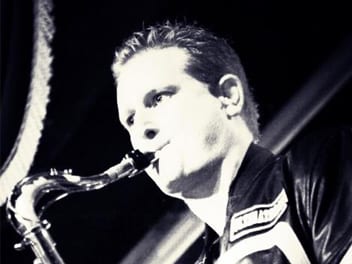 Dave Howell is the current Lead tenor player with National BBC Big Band Champions and veteran of some key corporate bands in Northern Ireland like Kahuna, Backbeat Soul Truth and Otis & The Elevators, he has also recorded with various artists within various fields like R&B Stalwart Dave Lewis and Funk DJs Bell Crash & Digital Boogie.
He made his name in 2000 with the fabulous Funk Foundation and is currently writing for his new album which is being released later this year. He is generally regarded as the hottest new sax player in the province. Dave currently teaches weekly jazz improvisation classes and directs a college big band in Belfast. In 2004 he played Tenor Sax with the The John Miller Orchestra in a concert commemorating the 60th Anniversary of Glenn Miller's performances in Northern Ireland during World War II.
Dave can supply suitable jazz for various functions from corporate bashes, soothing dinner music, cocktail receptions, birthdays and weddings. He has one of the most versatile line ups in Ireland with combinations from 2 piece to 5 piece ensembles.